Sooo, it's already 2 weeks into the new year and I failed to look for a new calendar. It's not that bad really, but my calendar shopping motivation level has been extremely low, so I thought I might as well make one myself! We bought a fancy new printer a few months ago that can print on larger sizes of paper, so I designed the calendar to be 9″x14″, however it can obviously be scaled down to be printed on regular 8.5″x11″ paper. {Also, when I printed it on my 11″x19″ paper, it automatically did the "fit to page" (making it larger) and still looked good! – so there are lots of options.}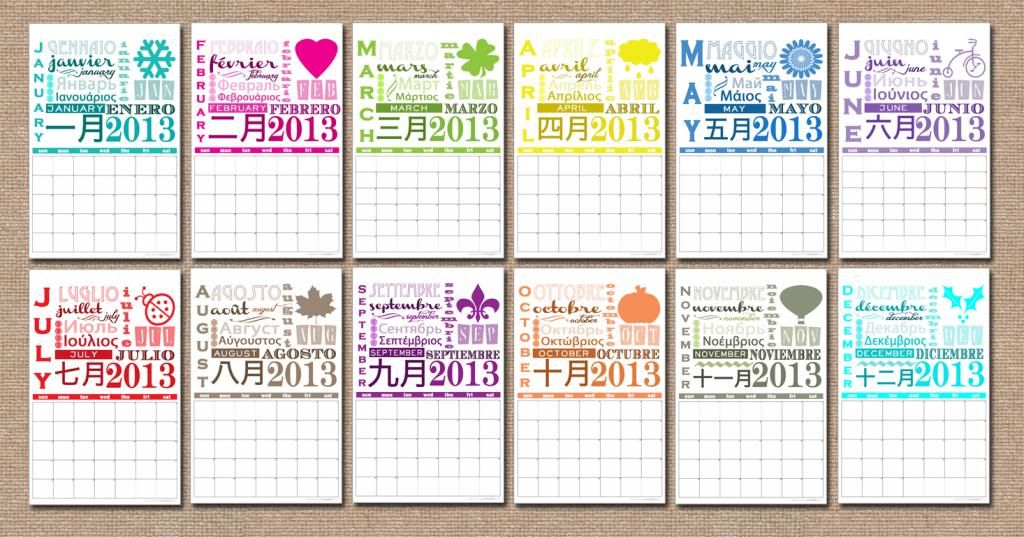 Download/Preview PDF for 8.5″x11″ printing {here} | Download/Preivew original size files click {here}
When I first started to pull this together, I was picturing doing each
month with the subway style wording and repeating the month name all
over the place. But I soon discovered you can only have the same word so
many times and still be interesting. I ended up incorporating the names
for each month from several languages, and I must say I'm pretty pleased
with how it turned out! Printed on the 11″x13″ paper, it's pretty darn close to the same size as a "real" calendar… hopefully tomorrow I'll be able to punch some holes & hang it up so I can post pictures of the "real thing." Is it awkward to be excited about a calendar? O well.